Beautifully present your sales material.
• Sales Reps
• Account Executives at B2B Software Companies
• Agency Owners
• Sales Reps
• Account Executives at B2B Software Companies
• Agency Owners
What's your background and how did you come up with the company idea?
I've always been interested in building software companies, and I started my first venture during my freshman year of college. It was a video conferencing tool, way back 11 years ago. Unfortunately, that product didn't gain much traction, but the experience taught me valuable lessons about building products that could go viral, retain users, and attract paying customers. 
Undeterred by the initial setback, I went through a dozen different product ideas, learning along the way about what works and what doesn't. After a few trials, I launched a successful mobile app called GameTakes, which was essentially like Riverside, but as an iPhone app for recording podcasts with others. 
I later sold that app and went on to work at a B2B tech company, where I started the growth team at OneSignal. Working in the B2B space, I fell in love with the challenges and opportunities it presented. After my stint at OneSignal, I founded another company, followed by another until I finally landed on the concept that would become Paage.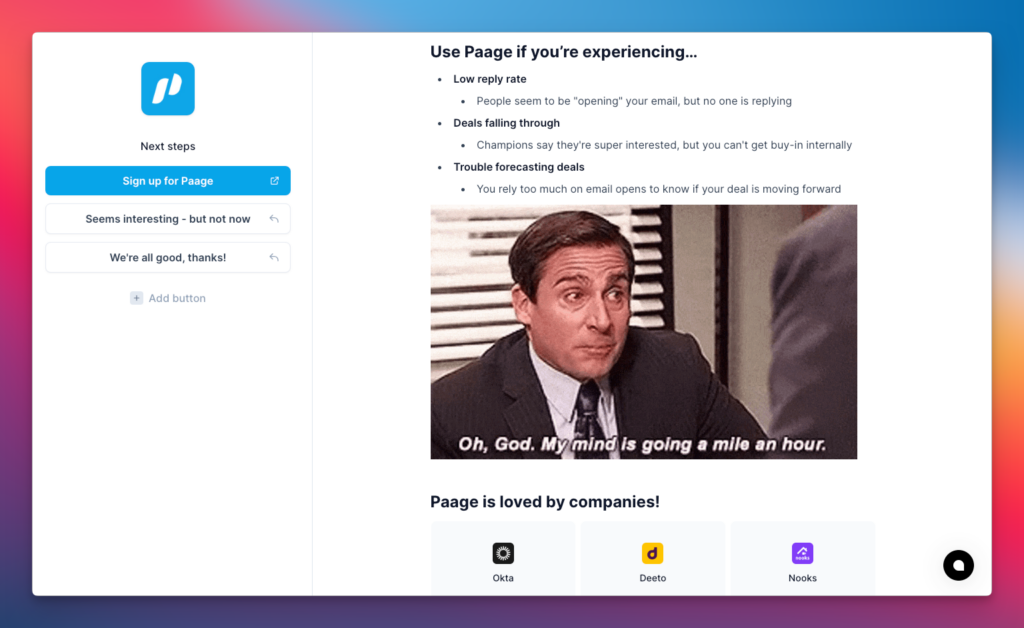 Neil taught himself to code on Youtube to build his Paage.
He is also known for sharing his journey of building Paage on Linkedin in a fun and humorous way
Can you give a brief overview of your company's product?
Absolutely! Paage is a game-changer in the way sales reps communicate with their buyers.
It serves as an alternative to sending long and dull emails with multiple links. This traditional approach often results in emails getting lost in the clutter and places the burden on buyers to sift through the information to find what's relevant to them. 
Paage transforms this process. At Paage, we believe that the key to winning in sales, especially when competing with numerous rivals, lies not just in what you're selling, but how you're selling it. With Paage, sales reps can present information in a beautiful and engaging manner, tailored specifically to the buyer's needs.
This greatly enhances the chances of the pitch resonating with the buyer and encourages them to share it with other stakeholders, ultimately gaining more buy-in and involvement in the decision-making process. 
Moreover, Paage's tracking component provides sales reps with valuable insights into buyer engagement. They can now see how long buyers are actively engaging with the presented information, what they click on, and whether they share it internally with other decision-makers. This level of visibility is a game-changer, providing reps with a better pulse on the activity and interest level of their prospect.
Stay updated with latest tech
Get the weekly email that makes staying updated with the latest tech actually enjoyable. 
Stay informed and entertained, for free.
Can you share a customer success story that exemplifies the effectiveness or uniqueness of your product?Of course, let me share a customer success story that really highlights the effectiveness of Paage. 
One of my very first customers was an account executive at a renowned company called Okta, a major player in the industry with significant deals that could span over six months. He faced the challenge of keeping momentum in these lengthy deals, as any lapse in engagement from the buyer could result in missing out on a crucial follow-up opportunity.
Paage became the solution to his problem. He wanted a way to ensure that all stakeholders in the deal, which could often be more than a dozen people, were consistently aligned and informed throughout the process. Additionally, he needed better visibility into buyer engagement to gauge the level of interest and momentum in the deal. 
By using Paage throughout the entire deal cycle, he was able to beautifully present all the relevant information to his prospects, ensuring that the right stakeholders were always on the same page. The tracking component allowed him to see precisely how engaged buyers were with the information he sent, providing valuable insights for his follow-up strategy. 
As a result, this account executive successfully closed a seven-figure deal for Okta, and he attributes a significant part of that success to the transformative power of Paage in his sales process.
What is the most unusual or unexpected use case you've heard of for your product or service?
One of the most unexpected and exciting discoveries we made was the use of Paage by job applicants.
Initially built with sales reps in mind, we were surprised to find that job seekers faced similar challenges when trying to present themselves effectively to potential employers. 
Resumes often fell short in conveying their full story, skills, and experiences. With Paage, these candidates found an excellent tool to stand out and share more in-depth information with hiring companies. 
Job applicants found that Paage allowed them to go beyond the traditional resume and present a more comprehensive picture of their qualifications, projects they've worked on, and their story. 
This unexpected use case has been an exciting addition to our user base, and we're delighted to see Paage making a positive impact on job seekers' lives as well.
What excites you the most about the future of Paage?
I'm thrilled about the potential and impact that Paage can have on the lives of sales reps and professionals across various industries.
The most exciting part for me is witnessing the tremendous value users are deriving from using Paage, even beyond what I initially envisioned. Initially, I expected Paage to be a helpful tool used occasionally during the sales process. However, I've been pleasantly surprised to see that users are now checking Paage as part of their daily routine, alongside their email.
Moreover, Paage has gone beyond just being a sales tool. It has permeated throughout the entire deal cycle, from prospecting to customer onboarding, providing immense value at every stage. Witnessing the adoption and love for Paage among users is truly gratifying.
As we continue to grow, I'm eager to serve even more sales reps and professionals, helping them close more deals and achieve greater success with Paage. I'm also excited about our focus on bootstrapping in the early stages, as it allowed us to build a profitable and sustainable business right from the start.
This approach fosters creativity and customer-focused thinking, and I look forward to maintaining this ethos as we scale and make Paage a dominant player in the market.
Subscribe to Snapp Spotlight
Get the weekly email that makes staying updated with the latest tech actually enjoyable. 
Stay informed and entertained, for free.
Have a question or feedback? 
Let us know 🙂
Have a question or feedback? 
Let us know 🙂